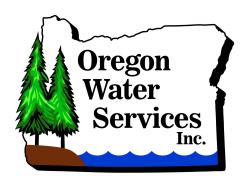 Water Well Service Technician
2020-07-17 Oregon Water Services 30086 Federal Lane $18-$25 Depending on Experience hour
Description:
JOB SUMMARY
Installation, service, and support of low and high capacity water wells, and pumping equipment. This is a technical hands-on position that requires skill with power and hand tools and related equipment with the ability to troubleshoot and diagnose using knowledge of pumps, well water systems, and various controls. Being a team player is important as the installations and projects often require several personnel on site. Customer relations skills are critical.
EDUCATION REQUIREMENTS
Minimum requirement is a high school diploma. Technical training and/or experience in plumbing/pumps, hydraulics, and controls, would be beneficial but not required. Related training/experience in construction practices, electrical, electronic preferred. We provide extensive training and development.
SKILLS
Perform all diagnostics and analysis to troubleshoot and repair equipment in a timely,
efficient manner
Pump repair and installation
Provide outstanding, high quality customer service
Maintain effective professional working relationships with customers and co-workers
Attention to detail and high standards of quality and cleanliness
Stock and maintain inventory on company vehicle
Current Driver's License with a clean and safe driving record
Occasional work on ladders
Occasional work in confined spaces
Frequent bending and stooping
Ability to repeatedly lift up to 75 lbs.
Standing for extended periods of time
Outdoor work environment
Willing to work occasional overtime hours
Ability to provide and follow oral and written instructions in English
Documentation of work and accurate record keeping
Do not contact this company in solicitation of any product or service.