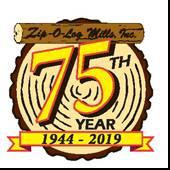 Lumber Mill Workers
2021-11-25 Zip-O-Log Mills, Inc. 2235 West 6th Avenue $17.21 - $20.00 DOE hour
Description:
Zip-O-Log Mills, Inc. is a family owned wood products company providing top quality 100% Douglas Fir products for over 75 years. We are recruiting reliable, hardworking people who are looking to be financially rewarded for their strong work ethic and commitment to quality work.
We are offering excellent career opportunities for both experienced and entry-level mill workers who are seeking a team oriented, zero loss goal job with a company that offers on the job training and the ability to move up within the organization. Our Sawmill has Green Chain Puller positions open starting at $19.50/hr. Zip-O-Laminators has both Pre-Glue and Finish Department positions available, starting at $17.21/hr., where you will perform specialty carpentry work.
*Must be able to pass a drug screen, will be subject to random screening, testing includes THC/marijuana*
We offer a variety of bonus opportunities as well as the following benefits to full time employees:
Health insurance
Paid time off
Dental insurance
401(k)
Vision insurance
401(k) matching
Referral program
Employee assistance program
Do not contact this company in solicitation of any product or service.